What is Crowdbotics?
Crowdbotics is a new way to build software applications, ridiculously fast.
You can build real production, high-caliber software applications in just a few minutes, rather than weeks or months, and see them live on the web or your phone. It works whether or not you know how to code – it's powerful enough for professional software teams building scalable solutions, but simple enough that you can use it with a minimal knowledge of product design.
You can make applications as simple as a web or mobile app, and as sophisticated as a chatbot, a machine learning app, an encrypted banking app, or a blockchain contract. So far, we've seen over a thousand applications built on the platform so far, with more created every day. The biggest applications have scaled up to hundreds of thousands of users successfully.
Crowdbotics is powered by a library of thousands of open-source building blocks – things like communities, social login, notifications – and a learning model to teach it how to mix and match blocks to make new applications. Each time something is built, the system learns from the packages used to get a bit smarter.
You just have to pick the pieces you want for your next piece of software, and Crowdbotics will install and set it up for you, then deploy it to your web, to a phone, to a chatbot, or more.
If you're already a developer, you'll like that everything's built around Git and popular open-source frameworks like React Native, Django, and Node. You can quickly and easily set up anything from an API to a SPA to a PWA.
If you don't know how to code, you'll like that the system can build a lot of the things you need already.
If there's something you want custom-built, we can help you set it up. We've already helped a lot of teams build a lot of cool things (check it out: https://www.crowdbotics.com/built-with-crowdbotics)
Crowdbotics is provided by Crowdbotics Corporation, a public benefit corporation.
We are headquartered in Berkeley, California, but built by a team of contributors from all over the world.
Do you support my favorite software development framework or language?
Right now, Crowdbotics supports multiple types of applications in several popular frameworks and programming languages. You can build the following types of applications:
Backend web applications (Django, Node.js, Ruby on Rails)
Frontend web applications (React, Vue.js, Angular)
Mobile applications on iOS and Android (via React Native or Swift)
Virtual reality applications (Unity)
Augmented reality applications (Unity/ARKit, Android only)
Ethereum smart contracts and tokens (Solidity)
Dapps (decentralized applications) (Javascript)
Interactive chat agents (Tensorflow, Facebook Messenger)
Speech-to-Text and Text-to-Speech Systems (Google Assistant)
Chrome/Firefox extensions (Javascript)
What can we build?
Right now, Crowdbotics supports multiple types of applications in several programming languages. You can build the following types of applications:
Backend web applications (Django, Node.js, Ruby on Rails)
Frontend web applications (React, Vue.js, Angular)
Mobile applications on iOS and Android (via React Native or Swift)
Virtual reality applications (Unity)
Augmented reality applications (Unity/ARKit, Android only)
Ethereum smart contracts and tokens (Solidity)
Dapps (decentralized applications) (Javascript)
Interactive chat agents (Tensorflow, Facebook Messenger)
Speech-to-Text and Text-to-Speech Systems (Google Assistant)
Chrome/Firefox extensions (Javascript)
How much time will it take?
Creating an initial codebase takes just a few seconds, and deploying it to the web takes a few minutes more. Most apps are built in just a few days or weeks.
Will Crowdbotics sign an NDA with me?
Crowdbotics routinely executes NDAs with paid customers to facilitate discussion of future product plans or share sensitive code. Email us at hello@crowdbotics.com for this purpose.
Who owns the source code and intellectual property?
When you build with Crowdbotics, you always own the code – not us! Our standard user agreement assigns you full ownership of any software you create with Crowdbotics by default.
We'll host your source code for you on Github as long as your paid account is active. You can access it anytime to download a copy, make changes, or just look around. Just click the "Github" link on your product details page.
Can I use Crowdbotics if I am not technical?
Yes! Crowdbotics is designed to help nontechnical people create industrial-scale, professional software applications.
Many of the best applications built on Crowdbotics have been conceived by designers, doctors, lawyers, nonprofit owners, scientists, teachers, product managers, and more.
Crowdbotics provides thousands of built-in modules you can use to add functionality to your application. We've also got a built-in community of experts that can write custom features or just explain how things work.
How do I set my payment method?
Crowdbotics accepts payment via all major credit cards. Billing runs once per week for engineering and UI/UX services from Experts and once per month for software products. Customers on annual plans receive a discount and are billed once per year.
You can update your payment method anytime by clicking on the "subscription plans" section in the settings drop-down.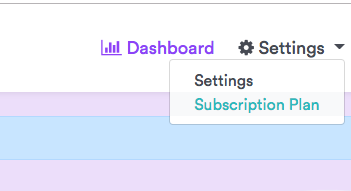 Enterprise accounts may request invoicing or ACH payment. To request enterprise billing, contact your product manager.
How can I track progress of my application?
You can see progress on your dashboard. Additionally you can add/remove team members, view individual to-dos, add features to your build, view your repo, etc.
To log in, visit https://app.crowdbotics.com.
What info do I need to provide before a build starts?
As much or as little as you have! The more you have, the faster we can work, but Crowdbotics is prepared to help you break down your idea into actual features and designs. Your product manager will talk to you and scope out an early MVP, with steps to take iterating and polishing your build as you grow. If you have a scope written out, mockups, rough designs, or just an idea, we can start today.
How do I contact support?
Paid plans receive direct support from a professional Crowdbotics product manager, directly in Slack. Product managers are experts at building software product, using Crowdbotics tools, and accelerating your performance.
You can contact your product manager anytime in Slack.
Free plans can obtain limited support by clicking the chat button in the lower-right-hand side of any screen.
You can also email the team directly at hello@crowdbotics.com.